インタビュー 2008年

Doug and I finally got a chance to catch up, to talk about the new Whitesnake album, and life as a working Dino guitarist in 2008. Check it out, it's a good one.
2008-08 インタビュー podcast #34

Shockwaves/HardRadio podcast #34
The Guitar Masters Episode.
Interview with Whitesnake's newest axe-wielder Doug Aldrich

Cuando quedan horas para que arranque el tour de WHITESNAKE por nuestro pa?s, publicamos esta entrevista telefonica con Doug Aldrich, uno de los dos guitarristas de la Serpiente Blanca... Leer m?s
If that quedan hours to start the tour by Whitesnake our country, we publish this telephone interview with Doug Aldrich, one of two guitarists of the White Snake ... 続きを読む
2008-06 Road Rash: ビデオ インタビュー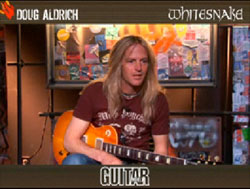 Your favorite guitar players tell their wildest road stories in this special video interview series.
Watch this video Q&A with hot-shot axman Doug Aldrich.
metal7080
45 minutes with doug aldrich, a metal7080 special presentation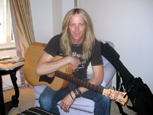 Talking Metal Episode 205
iTunes / MP3
Hosts Mark Strigl and John Ostronomy talk and play Metal with Doug Aldrich of Whitesnake.
The Shropshire Star Newspaper
"I'm really proud of this album," says Aldrich, on the phone from his LA home, and only slightly distracted by his new puppy trying to get in on the conversation..... 続きを読む

I did the best that I could on this project and it was a rewarding experience. I am just glad that it is over because it really kicked my ass.... 続きを読む
2008-04 インタビュー
WoozyFly.com
2008-04 インタビュー
UOL Musica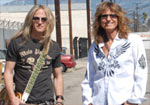 Whitesnake traz ao Brasil a turn? de "Good to Be Bad", primeiro ?lbum de in?ditas em 11 anos..... Leia o resto
Whitesnake brings to the Brazil tour of "Good to Be Bad," the first album of new compositions in 11 years..... 続きを読む
I was playing in the band Dio with Ronnie James Dio...and the Scorpions came to Ronnie and said "We're doing this tour next year with Whitesnake. David Coverdale is reforming Whitesnake... 続きを読む

When I started working with him (Coverdale) in 2002-2003 (I was asked in later 2003 to join the band) I asked him what about recording? He said... 続きを読む
David's always writing songs. I'm always writing songs. We are always working on ideas... 続きを読む/聴く
Good To Be Bad was a total commitment and very focused from the start... 続きを読む
2008-09 海外ライヴリポート 6月26日 ロンドン 英国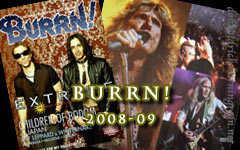 Exclusive Live Report:海外ライヴ・リポート
Def Leppard & Whitesnake
ウェンブリー・アリーナで競演!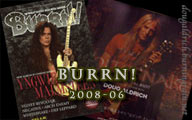 Whitesnake
ダグ・アルドリッチ、白蛇で才能開花!(インタビュー)
2008-07

インタビュー

The Classic-rock heroes bring Whitesnake after ten years of silence the new album 'Good To Be Bad' on the market - we have on the road and guitarist Doug Aldrich sound studio in his visit. The result is a workshop of the highest class!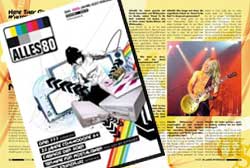 30 years Whitesnake
The comeback after eleven years: Die Hard rockers present their new album "Good To Be Bad" and are currently on a world tour. The new guitarist Doug Aldrich in the interview.
Marshall LAW / Marshall Blog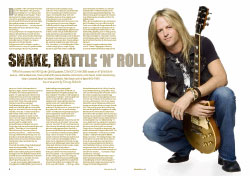 Marshall LAW 10 (PDF)
日本語:Marshall Blog

Charming the Sonic Snake: PDF on Whitesnake.com
2008-05 インタビュー & Playing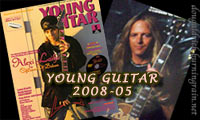 Doug Aldrich:
Special Interview & Playing
白蛇待望のスタジオ最新作を徹底検証!
本領発揮! 最強のケミストリー